Warm atmosphere despite dense fog
Not only delicious Christmas "Stollen" cake and hot tea contributed to a wonderful Christmas

At the end of December, welt_raum hosted a joint Christmas celebration together with the "Blaue Blume" at their trailer on a field in the north of Friedrichshafen. Together with a handful of refugees we collected and chopped wood during the day and wrapped the light chains around the trailer. Around seventy guests showed up, warmed up their hands with hot punch and everyone got a taste from the delicious Christmas stolen (typical type of Christmas cake).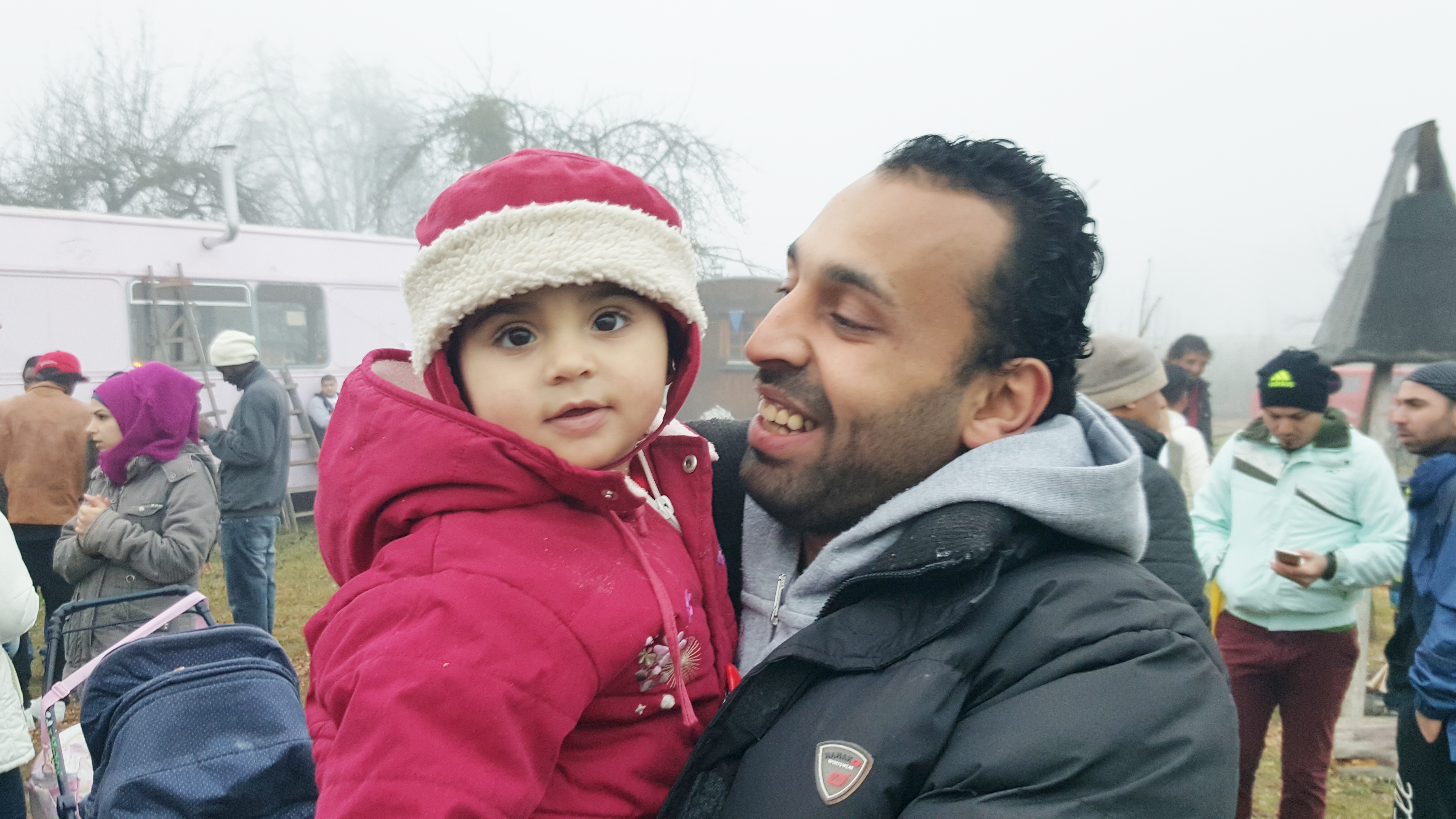 A couple of families sit around the campfire while children are running all over the place. It is warm in the trailer, music is playing, some of the refugees are solving crossword puzzles together with other students and Friedrichshafen residents, and everyone is having a wonderful time. In this kind of setting, refugees, citizens, and students can all come together and engage in a warming activity as equals.
Melanie Berger, Co-Founder welt_raum
Joining the Seekult festival
Memories of a weekend full of music and dance
Winter is coming. The leaves are falling from the trees, and the temperature drops.
For the welt_raum team the day begins early. A cup of coffee, tons of parsley, cauliflower. Among others, these ingredients are meant to be mixed together resulting into delicious Syrian treats. These should be sold at a festival. In the community's kitchen vegetables are being washed, sauce is being seasoned while the whole group chats and is in a good mood. Children jump around a play hide or seek.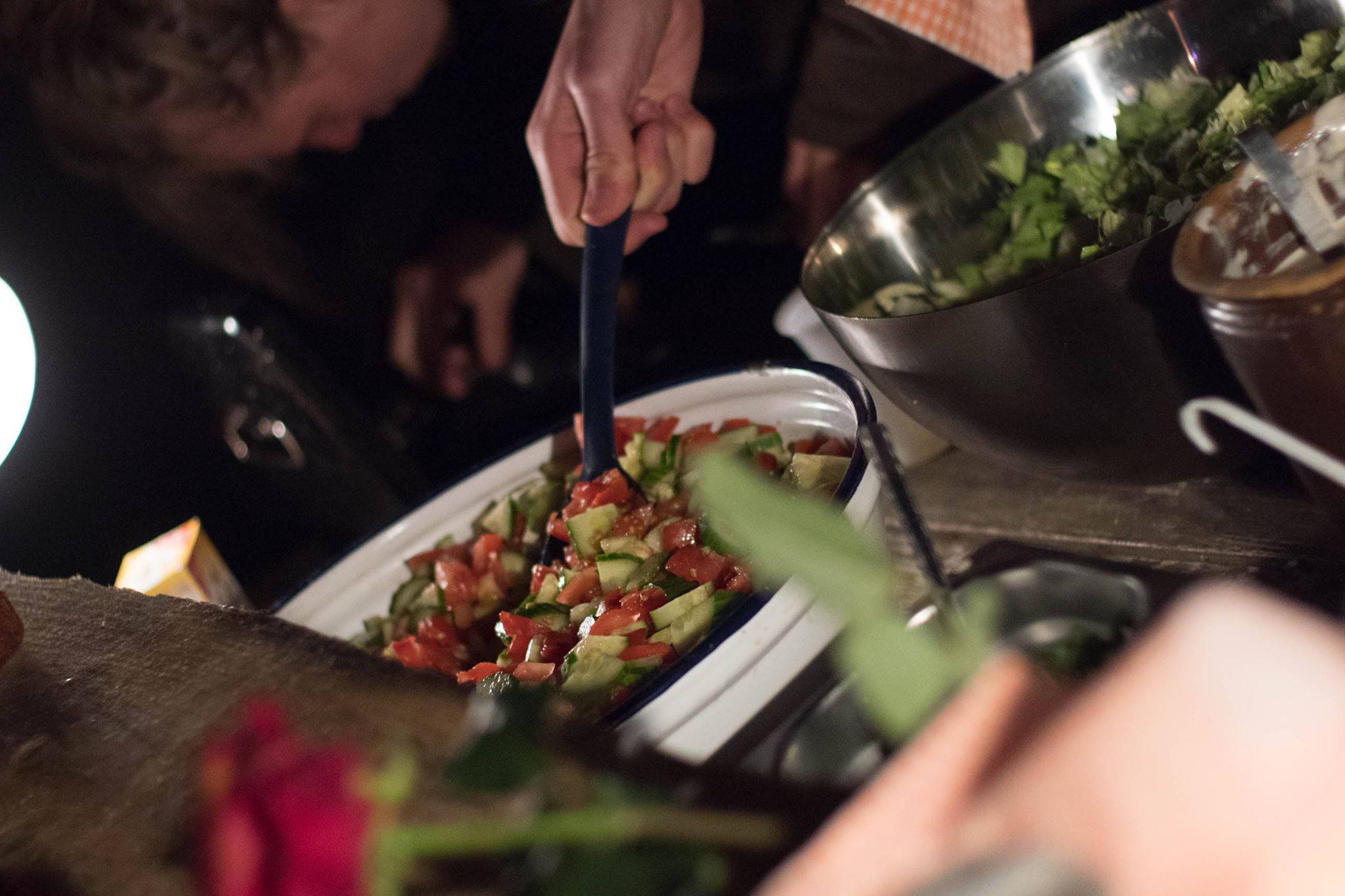 Mohammed's favorite song blasts out of the speakers. Finally, everyone is awake. The food is simmering in the kitchen. Tabbouleh, an Arabian vegetarian dish, is being prepared. It is traditionally made of tomatoes, finely chopped parsley and is time consuming to prepare. Something like this would be seldom in Germany thus not as much time is dedicated into cooking, says Matheo. Cooking is a big part of Syrian social life and traditionally families and friends often gather around the dinner table for hours.
In a large pot on the stove a Hindi kebab is simmering – meatballs in spicy sauce. The smell of it has spread throughout the house. Everyone is hungry and gathers around the large table. A mix of Syrian, German and English conversations fill the room. Everyone praises Hassan's skill with spices and enjoys the well-deserved break.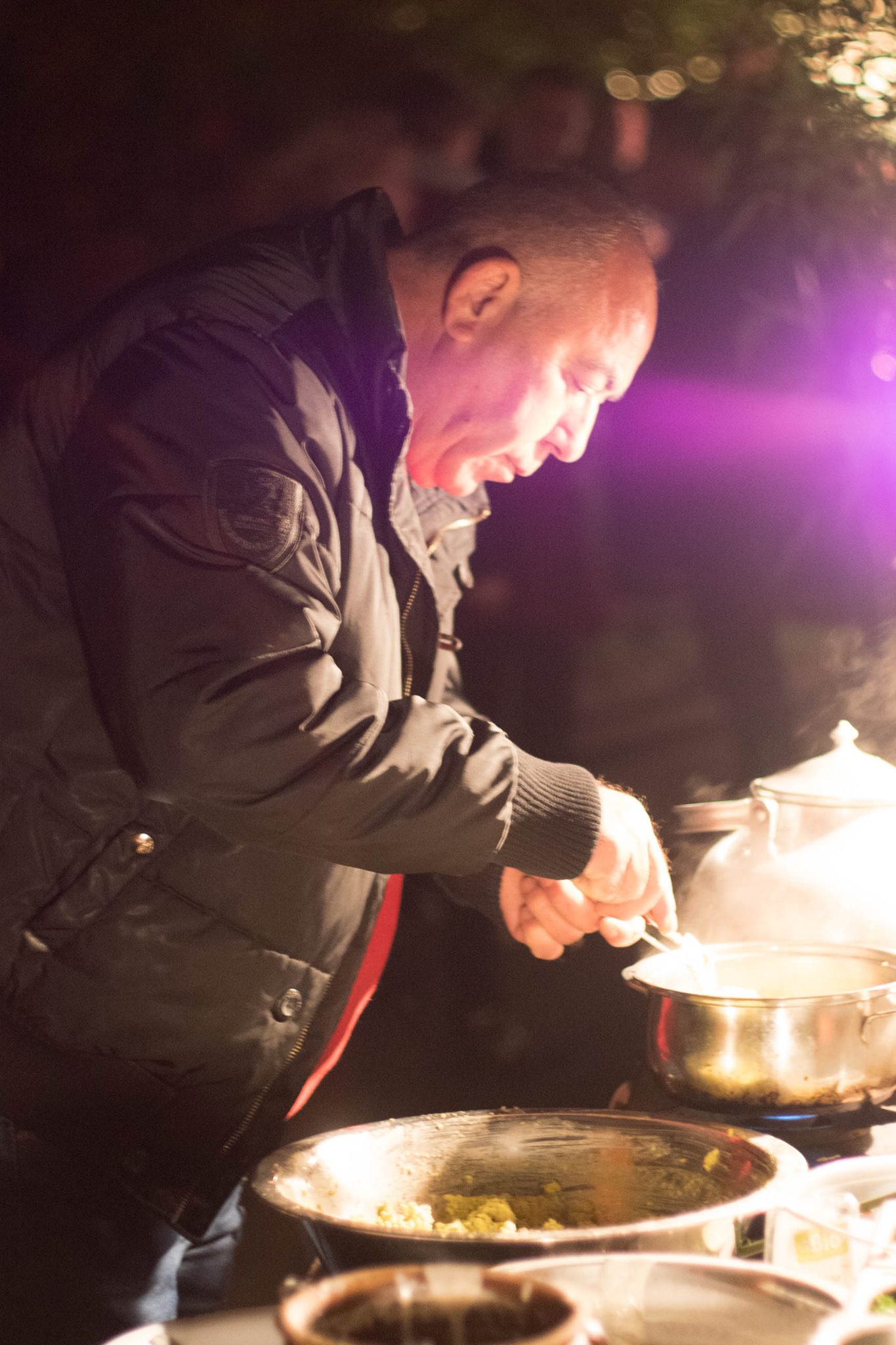 Then everything is packed together: Four large pots, three bowls and many ladles. Everything is stuffed in the car, including the chefs and co-chefs. The Corsa heads towards the Kulturhaus Caserne. The welt_raum-food stand gets build up. The city residents from many different nationalities, Afghans, German, Kosovars, and many more gather around the food stand. The festival can begin.
The mix of students, refugees and residents of many different generations, wander around the festival. The sound of the "Luftschiffkapelle" (Band of the Zeppelin University) as well as some south American guitar music creates a wonderful atmosphere. Dance, music and theater promote a sense of equality, and nationality does not pose an obstacle for laughing together. A Falafel stand feeds those hungry and all of a sudden Abdullah and Hassan, who want to help spontaneously and explain how best to form and fry chickpeas, are behind the counter. Had we known that, we would have brought our Falafel Maker, Abdullah says with a grin in his face. The boys and girls of the "Blaue Blume" are glad to receive such strong support. Later in the evening everyone sat together around the campfire and had an exhausted, but wide smile on her or his face. It was a festival characterized by encounters and exchanges. And above all, shared moments of happiness.
Louisa Deinhart, welt_raum
The welt_raum team thanks the organizers of the festival Seekult who made this day possible by many free tickets and the Blaue Blume e.V. for cooperation at the festival. We are very happy about this cooperation and already warmly invite you to our next events. For details please refer to the welt_raum calendar in the bottom.
Why encounters are so beautiful
Friedrichshafen's citizens and refugees together under the sun at the lake
On one of the last sunny days this fall a little gathering was held at the Rowing Club in Friedrichshafen. Around sixty people gather around the open field. While some play Frisbee, many just chat on the dock, close to the big lake. Again and again young rowers run past us with their boats. Gladly Hassan and Abdullah lend a hand to carry the long boats into the water. It is a classic gathering where sometimes people just talk causally while others can't stop laughing. Later everyone sits around the campfire and bakes "Stockbrot", warming their hands and can not believe that the sun has already almost set down completely.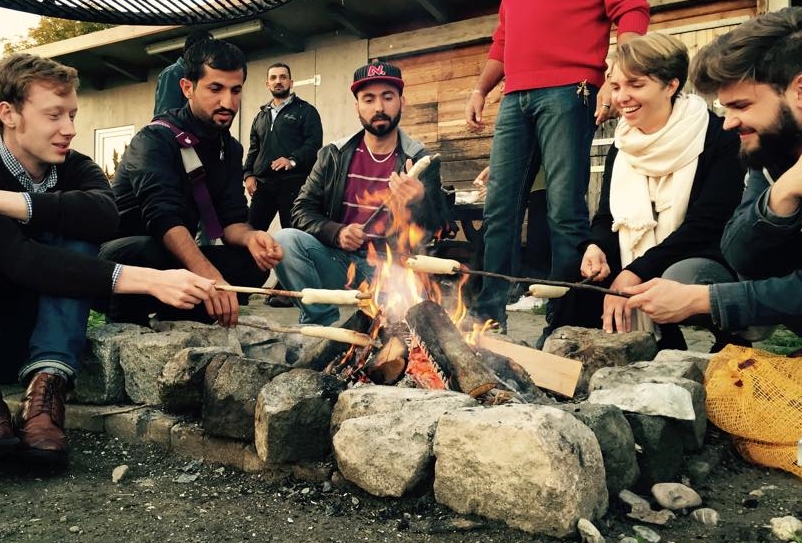 End of September the initiative welt_raum in cooperation with the rowing club Friedrichshafen organized a party by the lake. We invited citizens, students and refugees, whose new home is now Friedrichshafen. The goal of welt_raum is to create spaces to enable encounters and activities on eye level. At these meetings and excursions everyone is treated the same and boundaries should be counteracted. However, it is important to stress that we can all learn from each other.
In fact, the events will also offer opportunities to find so-called tandem partnerships. Tabea for example can now study Arabic with Emad while also learning a lot about the Syrian kitchen and Louisa regularly goes jogging with Amadou: Countering the distance of everday life – encounters from human to human.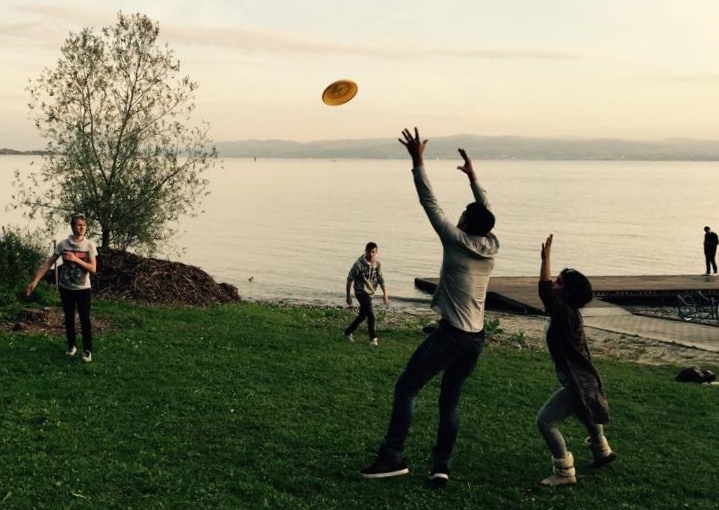 We must not forget, that the situation is not easy. By now several hundred refugees are in Friedrichshafen. Joint activities and encounters are still too seldom. But it is touching to see how it welt_raum contributes to tackling this challenge – to see how we all support one another.

Dass die Situation nicht einfach ist, dürfen wir nicht vergessen. Mittlerweile leben mehrere hundert Asylbewerber in Friedrichshafen. Woran es fehlt sind vor allem Begegnungen – auf Augenhöhe. Und dann ist es doch ergreifend, wie mutig und hoffnungsvoll miteinander umgegangen wird. Da kam eine Familie und fragte, wie die Veranstaltung denn nun abliefe. Organisatorin Liliana Josek hatte eigentlich ein kleines Programm zusammengestellt, aber das brauchen wir doch heute gar nicht. Gehen Sie doch einfach auf die Runde dort drüben zu!. Kurz darauf spielt die Tochter mit dem kleinen Syrer Badminton, und die Bürgerin lauscht gespannt Geschichten aus einer vermeintlich anderen Welt.
Melanie Berger, Co-Founder welt_raum
The welt_raum team thanks the rowing club very much for its support. We are very happy about this cooperation and already warmly invite you to our next events. For details please refer to the welt_raum calendar in the bottom.